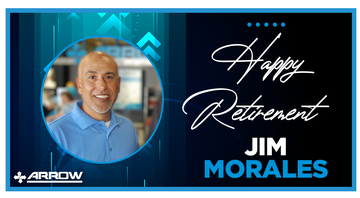 Dear Valued Colleagues,
It is with mixed emotions that we announce the retirement of a true champion and valued member of Arrow Wire & Cable, Jim Morales. After an incredible journey spanning an impressive 33 years of unwavering commitment, it is time for Jim to embark on a new chapter of life, one filled with relaxation, joy, and well-deserved tranquility.
Throughout his remarkable tenure with Arrow Wire & Cable, Jim's positive impact on numerous lives within our company has been nothing short of extraordinary. His dedication, passion, and leadership have left an indelible mark on Arrow Wire & Cable, shaping it into the success it is today. From the very beginning, Jim has been a driving force, always ready to roll up his sleeves and tackle any challenge that came his way.
One of Jim's most outstanding qualities is his genuine care for the growth and development of his colleagues. He consistently went above and beyond to support and mentor employees, fostering an environment of empowerment and success. Many owe their personal and professional growth to Jim's guidance, and his influence will continue to resonate within Arrow Wire & Cable for years to come.
Beyond his professional contributions, Jim has also been an exceptional friend and confidant to many. His warm demeanor, genuine interest in others, and unwavering support have made him a beloved member of our work family. Whether it was lending an ear, offering advice, or simply brightening our days with his infectious laughter, Jim's presence has had a profound and positive impact on our lives.
Jim, as you step into the next phase of your life, we wish you a retirement filled with joy, good health, and fulfillment. May this well-deserved chapter be a time of relaxation, new discoveries, and cherished moments spent with loved ones. You leave behind an indelible legacy, and your impact will forever resonate within Arrow Wire & Cable.
Once again, thank you, Jim, for your unwavering dedication, friendship, and remarkable achievements. Your remarkable journey inspires us all to reach new heights and reminds us of the value of hard work and commitment.
Sincerely,
Carlos Lora
Marketing Specialist
Arrow Wire & Cable