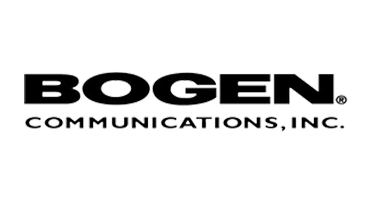 Bogen
Public Address • Educational Communication Systems • Background & Foreground Music Systems
Bogen Communications International, Inc., the parent company of Bogen Communications, Inc. and Speech Design GmbH, is a leading provider of sound systems and telephone peripherals for commercial, industrial, and institutional applications the world over. Speech Design, and its subsidiaries, offer voicemail and unified messaging technology in the European market.
Why Bogen?
Bogen's Telco line of business provides the corporation a leadership position in the U.S. overhead paging market segment. Their Pro Audio line of business, along with Bogen's acquisitions of NEAR and Apogee Sound brands, expands the Bogen family of products to address applications ranging from single speaker systems to large-scale concert music systems. Bogen's Engineered Systems line of business allows the corporation to successfully address school intercom, signaling, and media control, holding significant market share in the U.S.
Visit Bogen at www.bogen.com.