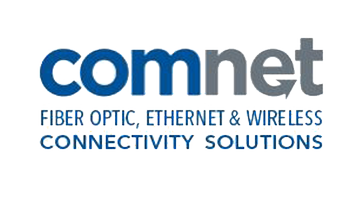 Comnet
Fiber Optic, Ethernet & Wireless Connectivity Solutions
ComNet is a manufacturer of precision-engineered analog and digital fiber optic transmission and Ethernet networking products designed to withstand the rigors of harsh and difficult industrial applications. ComNet is establishing the standard for the next generation of fiber optic and copper-media communications equipment with technological innovation few companies competing in this market can match.
Why ComNet?
Every ComNet video, audio, data and Ethernet product must pass a strict series of tests before they leave the facility. ComNet products are designed, built and tested in the USA. All backed by a Lifetime Warranty. What other transmission product manufacture can deliver that? As an environmentally-conscious company, ComNet takes great pride in doing all they can to preserve and protect the environment we live in. ComNet products provide the lowest power consumption and by doing so, cost less to operate.
Visit Comnet at www.comnet.net.