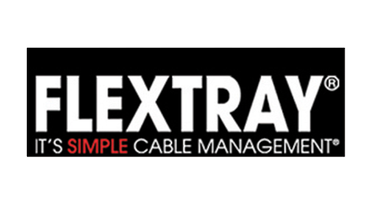 Flextray
It's Simple Cable Management
The Cooper B-Line FLEXTRAY cable management system provides value through jobsite flexibility and labor savings. Their system combines strength, lightweight construction, depth, and unmatched adaptability to support cables, tubes, and gas-tight pipes in a fast and economical way. The wide range of sizes offered by Cooper B-Line makes Flextray a great choice for everything from a small cable drop to a large trunk of cables.
Why Flextray?
The system is flexible and field-adaptable to manage cables throughout your project. The tray can be cut and bent, allowing cable runs to be adjusted on the jobsite. The market-preferred "T" weld safety-edge protects the cable and the installer during installation. UL Classified as an equipment grounding conductor, FLEXTRAY is ideal for many indoor commercial cable management applications.
Visit Flextray at www.flextray.com.