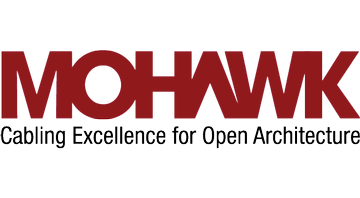 Mohawk
Cabling Excellence for Open Architecture
Mohawk's Open Architecture allows a completely flexible and warranted mix-andmatch network system. We have opened the door on closed dictated cable and connectivity partnerships. Cabling products and installation practices offered by our certified Mohawk Accredited Contractors (MAC's) deliver an end-to-end 25-year warranted Mohawk ChannelMATETM solution.
With the Open Architecture concept, designers and end-users can create their customized network from a variety of connectivity products
which have been third-party verified through Mohawk's ChannelMATE program. Through our extensive Mohawk training, contractors can earn the MAC accreditation. Becoming a MAC allows the contractor to offer Mohawk's ChannelMATE end-to-end system warranty, installed using any approved connectivity hardware, independently verified and defined by the industry standards.
Mohawk provides the right combination of cable products with many leading industry connectivity products to deliver an infrastructure that affords flexibility, expandability, and durability. With each ChannelMATE warranted system, the end-user is provided with all test results, confirming that the installed system meets or exceeds the latest ANSI/TIA-568-C standard, as well as ETL and UL specifications to assure compliance for
safety and performance. Mohawk is an ISO 9001 compliant company, adhering to its quality standards.
ChannelMATE guarantees that the cable and connectivity meet the specified backbone and horizontal system specifications as defined in ANSI/TIA-568-C. All parts and labor are guaranteed for 25 years.
Visit Mohawk at www.mohawk-cable.com/.