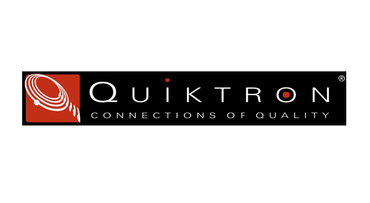 Quiktron
Connections of Quality
From their beginning in 1992, Quiktron has been committed to providing quality cable connectivity solutions to the Datacomm and Telecommunication industries throughout North America. They are known to many for their award winning RapidRun®, a complete audio/video system designed to save time and money while evolving with changing technology,
Why Quiktron?
Quiktron's commitment to providing unsurpassed technical service and support has gained the loyalty and favor of customers nationwide. They work exclusively through the industry's leading distributors to provide custom manufacturing of fiber optic and copper cable assemblies, as well as distribution of a wide range of products ranging from simple to complex, standard to custom. They are a proud member of the Corning Cable System's CAH Connections SM GOLD Program, which recognizes Quiktron for meeting the highest standard for manufacturers of optical patch cords. Combine all of this with facilities in four convenient locations, and it is easy to see why Quiktron is an industry leader in connectivity solutions.
Visit Quiktron at www.quiktron.com.