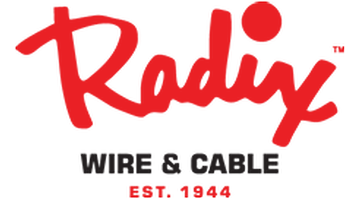 Radix Wire & Cable
High Temperature Wire and Cable for Extreme Environments
Since 1944, customers have come to Radix for innovative solutions and we've responded with what we do best: using our committed R&D, intense knowledge of materials, and outstanding engineering capabilities to create industry-leading high-temperature technologies like Sil-A-Blend®, DuraBlend®, DuraFlex®, and the first 550°C UL-listed wire.
Radix customers are working to stay competitive in an ever-changing global market, so we know there's never any shortage of challenging environments, applications or market pressures. And we love a good challenge.
We maintain two manufacturing facilities in Northeast Ohio, capable of manufacturing over 200,000,000 feet of high-temperature wire and cable a year, using cell manufacturing to focus complete production responsibility with specific production teams. This approach improves quality and throughput while allowing us to manufacture custom wire and cable quickly and efficiently.
We are proud to deliver our high-quality American-made products virtually anywhere in the world - FIRST TIME, EVERY TIME. We are equally proud to maintain the industry's highest level of customer service and technical support, to have a corporate environment built on integrity and accountability, and to have a long history of practicing ethical and responsible corporate citizenship.
For more than 70 years, Radix has been the leader in high-temperature wire and cable. Radix specializes in the design and manufacture of products to meet the most challenging and severe environments.
From fire resistance using ceramifiable insulation to rugged constructions that meet even the most difficult abrasion conditions, Radix has a high performing wire and cable solution available. Radix offers the smallest diameters available and temperature capabilities from 150°C to 1010°C and we continue to invest in our people and capabilities.
When your application demands high-performance wire and cable, think Radix.

Visit Radix Wire & Cable at http://www.radix-wire.com/.